SUMMER ONLINE WORKSHOPS FOR KIDS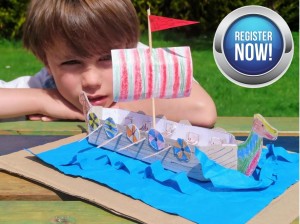 Week 1 – Tuesday 7th to Friday 10th July, 2020
Week 2 – Tuesday 14th to Friday 17th July, 2020
Summer fun is sorted with this hands-on camp for wanna-be young archaeologists. Children will make a historical craft, and be guided step-by-step through the process. They will learn some cool history, have a giggle or two and listen to some legendary storytelling; all designed to bring history alive in an engaging hands-on workshop.  Check out the fun themes for each day of Week 1 camp below. All the themes, crafts, stories and dad jokes are fresh & different to the content presented during the 10 weeks of Saturday workshops (April – June 2020). Much more to learn, much more fun to be had.
Dig it Kids camp is for children aged 6-12 years. The camp will run for two hours Tuesday – Friday mornings from 10.30am to 12.30pm. However, we have designed each camp morning to allow for a 1 hour camp time from 11am – 12pm  for younger children & children who find a two hour online camp just too much for them. All children are welcome for the whole two hours of course! The 10.30am – 11am section and the 12.pm to 12.30pm section of the camp are aimed at the older age group with more learning content, discussion, and augmentation of the craft.  Some children may need parental support with certain crafts, and to engage positively with the camp participants in the chat.
Each 4 day week of camp costs €40 per household. If you can only fit in one day of camp, Dig it Kids will be offering one day camps at cost of €12.50 (+booking fee) per morning. Links to individual day camps will be up shortly.
After booking you will receive an order confirmation with your zoom link. We will send you an email with the list of craft materials needed for your child/ren to complete their craft successfully.  We recommend that you gather & purchase the craft materials as soon as possible. Apart from normal arts and crafts materials like colouring pencils, markers, paper and glue, etc we use readily available household items.  We have tried to keep the need for craft supplies to be purchased at stores to a minimum.

The themes and crafts for Week 1 of Dig it Kids camp are: 
Tuesday 7th July, 2020
Theme: Archaeology Matters!
Craft:-   Make a model of Archaeological through time (stratigraphy)
Story:    First people in Ireland
Wednesday 8th July, 2020
Theme: Volcano's –  Fury from a Living Planet
Craft:     Volcano Model making
Story:     Kindness Matters
Thursday 9th June, 2020
Theme: Roman Rulers
Craft:     Volcano Model Eruption, and Roman Craft
Story:     Romus and Remus 
Friday 10th June, 2020
Theme: Crafty Celts
Craft:     Creating Celtic Art
Story:     True Grit
The themes and crafts for Week 2 of Dig it Kids camp are:
Tuesday 14th July, 2020
Theme: Pirates AHOY!
Craft: Pirates hat [Advanced: Pirates cutlass]
Story: Gráinne Mhaol – the Pirate Queen of Ireland
Wednesday 15th July, 2020
Theme: Awesome Stone Age
Craft: Poulnabrone secrets & model [Advanced: Make a bone pen]
Story: Fola's Discovery
Thursday 16th July, 2020
Theme: Snazzy Egyptians
Craft: Egyptian Necklace [Advanced: Egyptian Headdress]
Story: Tall Tales from Ancient Egypt
Friday 17th July, 2020
Theme: Valorous Knights
Craft: Shield Making [Advanced: Heraldry & stand up for you]
Story: The Wild Hunt
Please see our cancellation policy on our website.

The sessions will be held via Zoom.
A parent /guardian must complete the registration for the event series. Please read the full terms and conditions before signing up.
Parents must sign up on their children's behalf for the online sessions with a parental phone number / email (we cannot take a child's phone number or email address).
Once registered, you will be sent a list of things you need for gather in preparation for your child's activity (we have done our best to pick crafts that use things that most people will have at home).

Parent's must read and agree to our terms and conditions (see here)

Sessions will be carried out through a Zoom link. You will be sent an invite to a Zoom meeting via the email / phone number you registered with.
Parents will be required to maintain adequate supervision of their child during the online session, and your help may be needed with some children in preparing crafts.
Collection of data regarding contact information for session participants will be in line with the GDPR legislation.
No recording of sessions is permitted by participants.