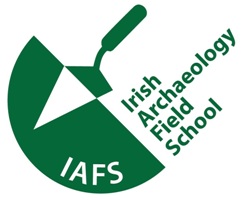 The Irish Archaeology Field School (IAFS) is Dig it Kid's sister company, directed by Dr Stephen Mandal and Dr Denis Shine.
IAFS is Ireland's leading provider of accredited, field-based archaeological research and training. The ethos of the school is to provide an opportunity for students of archaeology and anthropology to experience at first hand the excitement of archaeological excavation in a teaching environment.
IAFS archaeological and heritage programs include research projects in a number of locations in Ireland, including in Co. Wexford and Co. Offaly (with satellite schools frequently undertaken elsewhere). We provide credited and uncredited programs (and internships) for novice and experienced students, and also specialise in the preparation of purpose-built faculty led programs incorporating excavation, historical research, remote sensing, non-invasive survey, ground investigation, landscape assessment etc.
Whilst IAFS programs are excavation-centered and aimed primarily at students of archaeology, anthropology and history, courses are open to all, and are guaranteed to give you an enriching and thoroughly worthwhile study abroad adventure.
Project Profile: Ferrycarrig Research Project
The town of Wexford is nestled on the estuary of the River Slaney, and is one of the country's great Viking and medieval townscapes, with intact medieval streetscapes and numerous upstanding archaeological monuments. The town is named from the Viking Norse "Waesfiord", meaning "the inlet of mudflats", a clear reminder of its Viking Heritage, which dates from the early 9th century CE. Since the Viking period the beautiful port town has been impacted by foreign invaders, sieges, a famous insurrection and the gradual decline of its once crucial maritime industries.
One of the most significant historical events to impact Wexford (and Ireland) occurred in May of 1169, when a force of roughly 1100 Norman soldiers, led by Robert Fitzstephen, Maurice de Prendergast and the recently deposed Irish king of Leinster, Diarmait Mac Murchada, attacked and defeated the Norse-Irish town of Wexford. Following the capture of Wexford Mac Murchada granted lands, including the Norse town itself, to Robert Fitzstephen and Maurice Fitz Gerald. In an effort to fortify the region Robert Fitzstephen built a wooden 'ringwork' castle on top of a large rock at Ferrycarrig, directly overlooking a strategic point on the River Slaney (approximately 4km west of the town). This ringwork is the location of the current IAFS excavation program!