Join Dig it Kids Archaeology Camps….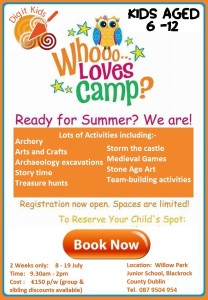 …for great fun, science and skills-based multi-activity camp for kids aged 6 – 12 who would like to bring history and archaeology (and some serious skull-duggery) to life.
Campers engage in a wide range of activities with an emphasis on discovery, fun and learning through arts and crafts, games and archaeology experiments, suitable for sporty and non-sporty kids alike.
Our experienced and friendly staff provide the highest standard of supervision and safety.
We recommend that you send your campers for more than one week. Our programmes run on a two week cycle, with a different theme each day.  Themes include:
Vicious Vikings
Savage Stone Age
Crazy Celts
Nasty Normans
Myths and Legends
Saints and Scholars
Indiana Adventure
Grave Robbers Skull-Duggery
Ancient Egyptians
Groovy Greeks
Rampaging Romans
Native Americans
Dig it kids camps are fun, interactive and hands-on.
Fun activities include:
Learning how to make ancient crafts, including stone aged tools, medieval crafts etc.
Discovering the scientific processes of archaeological excavation
Enjoying solving riddles and puzzles, including deciphering Viking secret codes and following treasure hunts
Participating in fun sports, including medieval games such as archery, chain-mail races and jousting
Collaboration and friendships deepen the longer your child stays with us at camp.